Faire sa propre brosse
L'exportation du pavé en image PNG permet de réaliser une brosse spécifique à un pavage.
Une fois le pavage au point (et enregistré de préférence), exporter le pavé en PNG (menu Exporter → Exporter le pavé en PNG).
Ouvrir ensuite le fichier PNG avec un logiciel de dessin gèrant les calques (ici c'est Gimp)
img class="img-fluid" src="images/pavages_brosse04.png">
Dessiner dans ce calque, par dessus le pavé
Supprimer ensuite le calque d'arrière-plan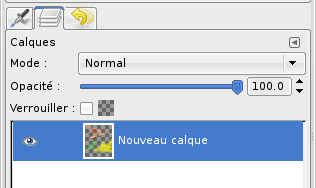 Enregistrer les modification et quitter Gimp
De retour dans Pavages, sélectionner la brosse ainsi créée
L'intérêt de gérer la transparence, c'est que la couleur de fond de chaque pavé peut être modifiée ; la brosse est plaquée par dessus.
---
Make your own brush
The export of the Tile in PNG image format makes it possible to produce a brush specific to a Tilling.
Once Tilling at the point (and saved preferably), export the Tile in PNG (menu Export → Export Tile as PNG).
Open then file png with a drawing soft with Layers possibility (here it is Gimp)
Draw in this Layer, over the Tile
Remove the background Layer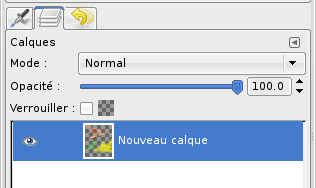 Save the modification and quit Gimp
Back in Pavages, select the brush thus created
The interest to manage the transparency, it is that the background color of each Tile can be modified. The brush is plated over.